3266E_0 - 12V/1.9Kg-cm/175RPM 14:1 DC Gear Motor w/Encoder
This DC motor has an encoder, a 14:1 gearbox, a rated speed of 175 RPM and rated torque of 1.94 Kg·cm.
Product Description
The 3266E is a 12 volt gear motor, generating 1.94 Kg-cm of torque at 175 RPM. Since this motor has a lower power output for its size, you can expect it to have a longer lifespan than other motors.
This motor comes equipped with an E4P US Digital Encoder, which keeps track of the motor's rotation, allowing you to control your motor precisely.
The planetary gearbox on this motor is more sophisticated than a typical spur gearbox and will provide greater efficiency, higher torque, and quieter motor operation.
Motor Controller and Connection
The 3266E DC motor connects to either of the following controllers:
 
If you decide to use the 1065, you can connect the encoder directly into its encoder input. If you decide to use the 1064, you'll also need one of the following devices to read your encoder:
 
Comes packaged with
The mounting holes on this motor are compatible with the 3338 - Mounting Bracket (NEMA17).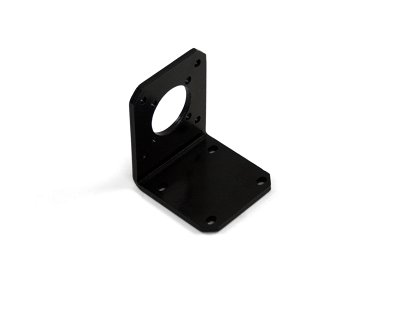 Resources
Product Specifications
Motor Properties
| | |
| --- | --- |
| Motor Type | DC Motor with Encoder |
| Output Power (Mechanical) | 3.8 W |
| Maximum Speed at Rated Voltage | 175 RPM |
| Rated Torque | 1.9 kg·cm |
| Stall Torque | 12.9 kg·cm |
Electrical Properties
| | |
| --- | --- |
| Rated Voltage | 12 V DC |
| Rated Current | 650 mA |
| Stall Current | 2.4 A |
Physical Properties
| | |
| --- | --- |
| Shaft Diameter | 8 mm |
| Wire Length | 350 mm |
| Weight | 467 g |
Gearbox Specifications
| | |
| --- | --- |
| Gearbox Type | Planetary |
| Gear Ratio | 13 212⁄289 : 1 |
| Number of Gear Trains | 2 |
| Maximum Strength of Gears | 30 kg·cm |
| Shaft Maximum Axial Load | 50 N |
| Shaft Maximum Radial Load | 35 N |
| Backlash Error | 3° |
Encoder Specifications
| | |
| --- | --- |
| Encoder Resolution | 360 CPR |
| Connector Type | E4P |
| Current Consumption Min | 27 mA |
| Supply Voltage Min | 4.5 V DC |
| Supply Voltage Max | 4.5 V DC |